Sea introductory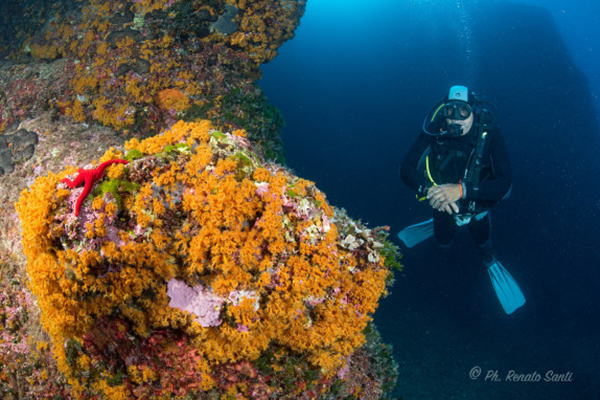 Duration: 3 Hours
From: Ischia Ponte
To: Ischia Ponte
Languages: Italian, english
If you feel fascinated by the beauty hidden on the seabed, this is the right activity for you
If you feel fascinated by the beauty hidden on the seabed, if you have always wondered what lies beneath the surface of the water meters and meters deep, this is the right activity for you.
It will be a real baptism of the sea, and with you there will be an expert instructor who will accompany you up to 8 meters deep. You will be able to enjoy the experience to the fullest and in total safety.
You will admire the depths of Ischia, rich in biodiversity and marine flora and fauna. You will experience the sensation of breathing underwater and you will feel like you are flying free in the blue of the sea!
We will meet near the Ponte Aragonese, on the island of Ischia. First, we will carry out an in-depth briefing. We will be explained the basic rules, the safety procedures, we will do a shore test with the equipment and only when we are perfectly prepared, we will get on the boat to reach the diving point. The richness and variety of its depths.
The "baptism of the sea" involves an immersion up to a maximum of 8 meters deep, but it will be enough to admire the colors and beauties guarded by the sea: starfish, schools of fish, colorful algae and much more.
In addition to being a triumph for the eyes, a scuba dive is a set of extraordinary sensations: the freedom to breathe underwater, the weightlessness that makes you float like feathers, the silence of the seabed, the contact with an environment so unknown and fascinating.
The total duration of the activity varies according to the number of participants, considering that the instructor can accompany 2 people at a time and that the single dive lasts about 40 minutes. This activity is of an easy level.
No previous experience is required, you just need to know how to swim and be in good health. It is not recommended to dive in the presence of colds and / or flu symptoms. Children aged 10 and over can also participate.
Important information
Price includes
all the diving equipment necessary for the dive
diving instructor
introduction to the main notions for scuba diving
sea trip
Price excludes
Lunch
Transfer
Towel and bathing suit
Cancellation policy
Cancellation with refund is possible only if the cancellation occurs before 24 hours from the start of the dive.